We Make Ordinary People Famous!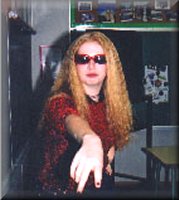 October 26, 2000
Today's famous person is Sheena.
"I wanna be famous because I want to be remembered. I have quite the dramatic flair - I sing, dance, act (although mainly offstage) and am perfectly suited to the type of decafent lifestyle that most famous people enjoy. I would be involved in all sorts of scandals, yet somethow, I would remain classy and elegant (unlike some people I know of, whose only claim to fame is that they have pleasured the president!), yet maintain my offbeat sense of humour, would diverse different witticisms (a la Oscar Wilde) to various people whenever I felt fit. In short, I should be famous (and already am, but maintain a cult-like status, when I'd prefer to be global)."
Here at IWannaBeFamous!, we feature one ordinary person every day. Being famous is not so bad after all.
Sometimes fame brings big fortune, but other times it brings headaches. Keep in mind that once you're
famous you'll need an agent, a photographer, a bodyguard, an accountant, a therapist, a lawyer, and
perhaps a good plastic surgeon. Are you up to the challenge of receiving instant fame through the internet?
If so, then send us your photo today and tell us why you wanna be famous!