We Make Ordinary People Famous!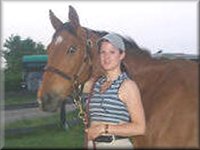 November 1, 2000
Today's famous person is Krista.
"I wanna be famous I have a GREAT cause that I believe in and that needs all the help I can generate! I am the Executive Director of CANTER of WV which is a non-profit organization that helps racehorses find non-race homes! Many horses every year wind up at the slaughter houses and even being abused because once their lives as racehorses ends they have nowhere to go. It is our hope to help educate the public and find these horses homes where they can go onto live productive happy lives! And besides, I'm kinda cute so why not?"
Here at IWannaBeFamous!, we feature one ordinary person every day. Being famous is not so bad after all.
Sometimes fame brings big fortune, but other times it brings headaches. Keep in mind that once you're
famous you'll need an agent, a photographer, a bodyguard, an accountant, a therapist, a lawyer, and
perhaps a good plastic surgeon. Are you up to the challenge of receiving instant fame through the internet?
If so, then send us your photo today and tell us why you wanna be famous!