We Make Ordinary People Famous!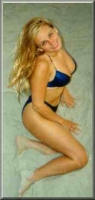 November 6, 2000
Today's famous person is Jennifer.
"I wanna be famous because myself becoming famous would be nothing short of a miracle. I believe the American consumeristic attitude is a jip. It is all a jip, there are very few things you get your money's worth for and if I was famous, I'd give people their money's worth or else I wouldn't do it."
Here at IWannaBeFamous!, we feature one ordinary person every day. Being famous is not so bad after all.
Sometimes fame brings big fortune, but other times it brings headaches. Keep in mind that once you're
famous you'll need an agent, a photographer, a bodyguard, an accountant, a therapist, a lawyer, and
perhaps a good plastic surgeon. Are you up to the challenge of receiving instant fame through the internet?
If so, then send us your photo today and tell us why you wanna be famous!