We Make Ordinary People Famous!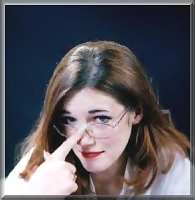 November 16, 2000
Today's famous person is Angela.
"I wanna be famous because there are many reasons why I want to be famous. One of them is to show my family up! These people told me that I would not amount to anything. Right now I am an aspiring model and hope to be in pictures(literally) someday. Another reason is self gratification. I have no problem with my ego, but maybe I should. I am very self confident. I am a single mother going to school and working all at the same time. If that's not reason enough. I don't know what is!!!!!!!!"
Here at IWannaBeFamous!, we feature one ordinary person every day. Being famous is not so bad after all.
Sometimes fame brings big fortune, but other times it brings headaches. Keep in mind that once you're
famous you'll need an agent, a photographer, a bodyguard, an accountant, a therapist, a lawyer, and
perhaps a good plastic surgeon. Are you up to the challenge of receiving instant fame through the internet?
If so, then send us your photo today and tell us why you wanna be famous!