We Make Ordinary People Famous!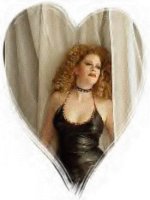 November 25, 2000
Today's famous person is Alexandra.
"I wanna be famous because ever since I was a child I liked to be in the spotlight and that still rings true as an adult today. I'm a local entertainer at the Embers Avenue here in Portland, Oregon and I'm a past Ms. Gay Portland. I know that if I were a mega celebrity like Sir Elton John I would do my best to raise more awarness about getting more funding for finding a cure for HIV/AIDS. Until there's a cure we still need arm ourselves by parcticing safe sex and educating the public by telling them it can strike anyone raguardless of age, gender, race, and sexual orietation. "
Here at IWannaBeFamous!, we feature one ordinary person every day. Being famous is not so bad after all.
Sometimes fame brings big fortune, but other times it brings headaches. Keep in mind that once you're
famous you'll need an agent, a photographer, a bodyguard, an accountant, a therapist, a lawyer, and
perhaps a good plastic surgeon. Are you up to the challenge of receiving instant fame through the internet?
If so, then send us your photo today and tell us why you wanna be famous!