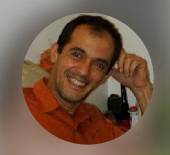 I wanna be famous because…
Because a lot of people keep saying that singing the songs with soul. I sing well. My voice is beautiful. etc.
Ok This is true when I'm singing, simply enter headlong into the music. While singing, live music, breathe music, feel the music, diving head at that moment … and that … Well. It's magical.
I have over 25 songs that I wrote myself.
But never had conditions to record and lead to public.
This being, a sleeping dream.
Thanks and a magical 2015 all.