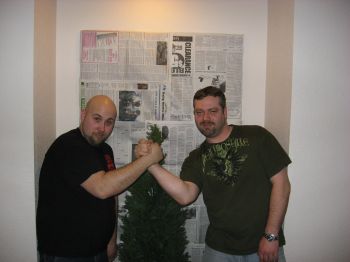 I wanna be famous because…
I look at the media and see people like Paris Hilton, etc. They offer nothing except for a pretty picture. Do you really think she deserves to be famous? Well at the risk of sounding immodest I think I DO deserve to be famous. I have talent, I can sing and act. I'm a pretty intelligent guy (just now everyone goes back to check my spelling and grammar).
I think people find me entertaining and pleasant to be around. I've always worked in factories and warehouses and other depressing jobs, I need a creative vocation and I'm too chubby to be a starving artist. In my photo I am bald guy on the left, however the fella on the right is my best buddy Rob. When we get together people wonder why we aren't famous already, so lets make us both famous…….you won't regret it. You may even want to be our manager, but you can't. I think you're the guy that stole my shoe that one day.