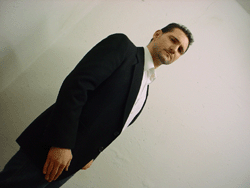 I wanna be famous because… I am almost.
The thhing is I am a german guy with an italian Father. Well, that's why I do not really feel like a tyical german.
I am 29 Years old and for about 14 years I make short movies, compose and arrange songs (which I also sing of course by myself). I write screenplays (2 are ready yet) and try to write a book for seven years (I am on Page 4 now ;-)).
I wanna be famous, becuase it's my destiny. I am a multitalent and everyone can have a look at it at www.youtube.com/MarcJ78 and www.track4.de/agentur/bands/14314.
If there is one thing I know for sure, then it is the fact that I will be famous one day.
Bye and have a nice time…